ถวายพระพรชัยมงคลสมเด็จพระเจ้าอยู่หัว เนื่องในโอกาส พระราชพิธีบรมราชาภิเษก
ผู้บริหาร พนักงาน กลุ่มบริษัทในเครือ ดับบลิวเจ แมชชีน วิชั่น จำกัด ร่วมกันถวายพระพรชัยมงคลสมเด็จพระเจ้าอยู่หัวมหาวชิราลงกรณ บดินทรเทพยวรางกูร เนื่องในโอกาส พระราชพิธีบรมราชาภิเษก พุทธศักราช ๒๕๖๒ เมื่อวันที่ ๓ พฤษภาคม ๒๕๖๒ ณ บีไฮฟ ไลฟ์สไตล์มอลล์ เมืองทองธานี
Prepare to meet at NEPCON THAILAND 2019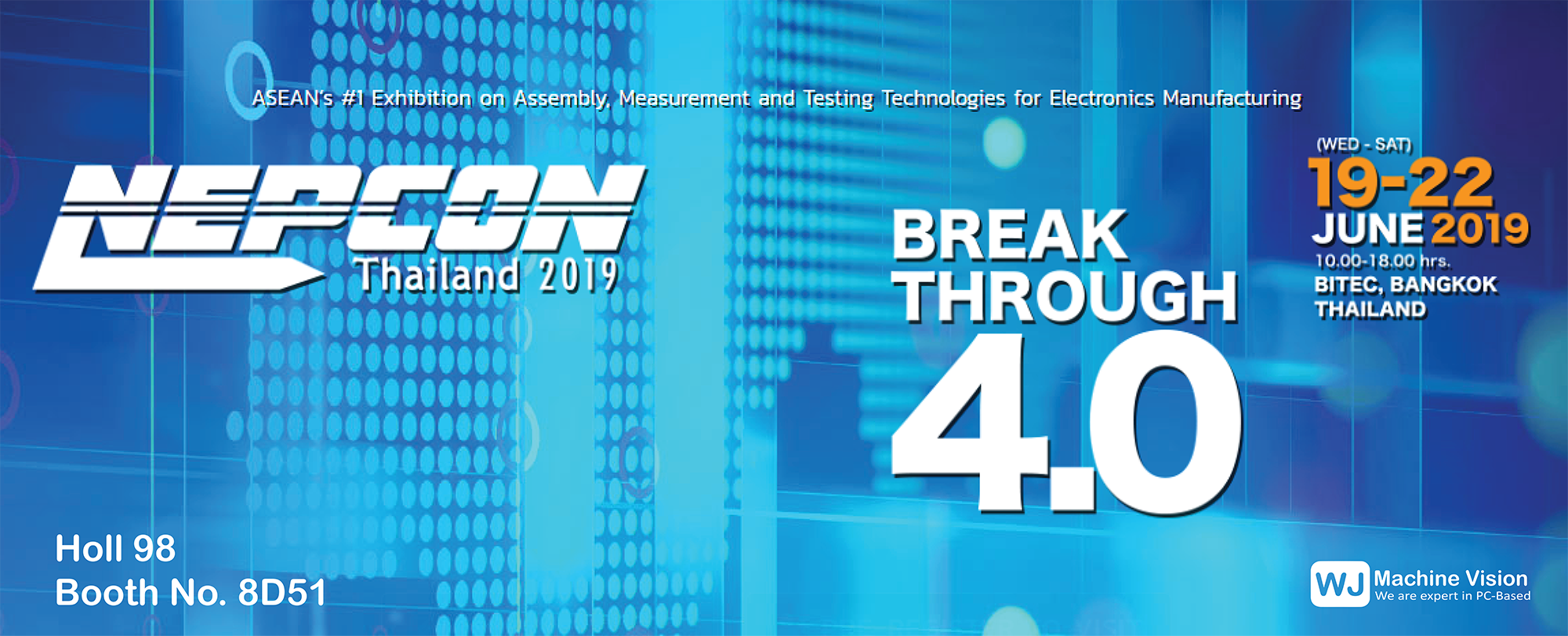 Prepare to experience the real world with modern technology. Of inspection cameras, both 1D code reading tools, high-speed 2D with complete processing By designing machine vision system solutions that are suitable for your line of work Which will help you get the best out of your work Reduce error data that will cause delays Increase the efficiency of the inspection. We, WJ Machine Vision Co., Ltd., the leader in Machine Vision Automation, can design and consult at Bitec Bangna Hall 98 Booth 8D51.
Cognex ViDi 3.2 Seminer - Nov 30th 2018
With the Cognex ViDi 3.2, the latest innovations that have played a huge role in enhancing the production efficiency in every industry with the system. Between us, WJ Machine Vision and Cognex Corporation are important. We would like to thank all customers who honor our activities. Counting that has received very good feedback from customers. And if there is any error, we apologize here, which we promise not to stop developing in all aspects. We, WJ Machine Vision, are a part of driving the various industries into the full era of Thailand Industry 4.0.
Above all, we, WJ Machine Vision, thank you all. Who was honored to visit our booth at the Nepcon Thailand 2018 event. And very good support from the group of visitors in this event Enabling us to know the needs from groups in various industries Which we are very good to serve Consultation in the machine vision system at the event. If there are any errors, we must apologize for this. Also, every customer needs, we will follow up on the next link
Throughout the past 3 days, TILOG-LOGISTIX were concluded with a perfect ending by welcoming 7,525 entrepreneurs, logistics professionals, importers and exporters from many sectors across ASEAN+6 to engage business discussion, witness latest business movements, and strengthen stronger connectivity for growth in development and competitiveness enhancement in the midst of 4.0 era.
Under the theme of "A Roadmap to Sustainable Growth in Digital Connectivity Era," all delegates were equipped with in-depth knowledge on how to capitalize business opportunities in digital connectivity era.
Workshop "Machine Vision Basic VisionPro 2018"
On March 23rd, WJ Machine Vision Group held a workshop on the Machine Vision Basic VisionPro topic "to create understanding. In the work of VisionPro software to solve customers in order to be deployed And develop the work of each industry to the maximum benefit There are also product updates as well as other software that has been interestingly developed. With good cooperation from our various partners, such as Cognex Thailand, VST, Winmate, Iinx, and Advantech. If there are any mistakes, please apologize. Here we will accept the criticism and will bring it back to improve. Continue to improve And also hope that we will continue to receive this great response