IoT I/O Gateways: ADAM-6700 Node-RED
Intelligent IoT I/O gateways with Node-RED analog, digital, or relay I/O connect edge to Azure cloud, SQL through MQTT, SNMP, RESTful, 3G, and WiFi.

Advantech's ADAM-6700 Node-RED series is an IoT I/O gateway with comprehensive functions like on-board I/O support and RS-485/Ethernet interface. It is an all-in-one device that not only integrates OT and IT data, but also saves cost, space, and engineering effort with the help of Node-RED gateway software.
Solution to visualize on-line equipment monitoring
Cloud/Database Access: Supports SQL, Azure, AWS and IBM Cloud
Data Visualization: Built-in programmable dashboard
Data Transmission: Supports MQTT, Modbus protocols and RESTful API
Data Analysis & Logic Control: Node-RED / C programming for local decisions
Data Collection: On-board & remote I/O via RS-485/Ethernet
Intelligence - Easy Coding Plus Visualization
Node-RED for Simple and Flexible Graphical Programming
Drag and drop functional nodes to activate project.
Users can visualize the real-time data on the built-in dashboard remotely.
Intelligent RTU (Remote Terminal Unit) : ADAM-3600
ADAM-3600 leverages on-board remote I/O design, edge computing and 4 slot I/O expansion to provides maximum flexibility to serve RTU applications.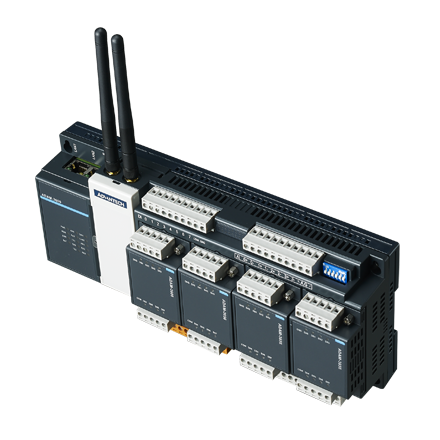 Domain Focused Onboard IO -8AI / 8DI / 4DO
High I/O Flexibility with 4-slot I/O Expansion
Modbus & DNP3 Protocol
IEC 61131-3&C Programming Language
Operation Temperature -40~70°C
Multiple wireless options for Zigbee/ Wi-Fi/ 3G/ 4G/ GPRS
High Performance CPU Cortex A8 600MHz
Low Power DDR3L 256MB RAM
Embedded Real-time Linux Kernel
The ADAM-3600-C2G is an intelligent Remote Terminal Unit with multiple wireless function capability, multiple I/O selection, wide temperature range and support flexible communication protocol for oil, Gas and Water application. In the oil, gas and water application environments the ADAM-3600 is ideal for any other remote inhospitable regions with many devices to be managed remotely.