Description
LDL2 Series
Emitting surface with LEDs arranged in straight lines radiate direct light.
High flexibility in installation is also provided.
Features
Rich lineup with 141 models*
We have a lineup of 141 models*, such as combinations of the size and emitting width of the emitting surface, directional characteristics, and the emitted color.
* Total number of models of the conventional products and high-power type products.
Compatible with a wide range of uses
You can freely adjust the illuminating direction and angle for use in a wide range of uses.
Because Bar Lights can freely adjust their illuminating direction and angle to match the workpiece, they can provide the optimal image.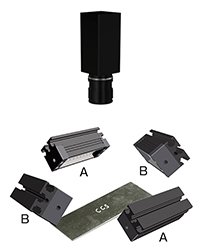 Increased brightness and rich variety of sizes
※The data included is for reference only. Actual values may vary.
Brightness comparison